[ad_1]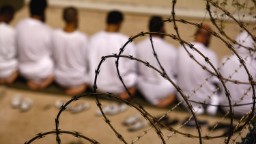 The United States has been leasing the 45 square miles that the base sits on since 1903. The base shares a 17-mile fenced border with Cuba.
The lease can only be terminated by mutual agreement.
Detention Facilities
There are 38 detainees at Guantánamo Bay.
The US Defense Department spent about $445 million to run Guantánamo Bay in 2015, down from $522.2 million in 2010.
Timeline
1903 – The new Republic of Cuba leases 45 square miles of land in Guantánamo Bay to the United States for construction of a naval station. Building on the naval station begins that same year.
1934 – Cuba and the United States sign a perpetual lease that rents the 45 square miles of Cuba to the United States for $4,085 a year.
1994-1995 – More than 55,000 Cubans and Haitians captured at sea are kept at Guantánamo.
January 11, 2002 – The first detainees from Afghanistan and Pakistan arrive at the temporary facility of Camp X-Ray.
January 18, 2005 – The Supreme Court refuses to consider whether the government's plan for military trials unfairly denies the detainees basic legal rights.
July 13, 2005 – A report presented to the Senate Armed Services details the interrogation of the suspected "20th hijacker" in the 9/11 attacks, Mohamed al-Khatani. He was forced to wear a bra, dance with a man and do dog tricks while tied to a leash. Military investigators said that was not considered prohibited, inhumane treatment.
April 19, 2006 – Following a Freedom of Information Act lawsuit by the Associated Press, the Pentagon releases the most detailed and extensive list of detainees ever provided. It provides the names and nationalities of 558 detainees who've gone through a hearing at Guantánamo Bay.
June 10, 2006 – Three detainees, Ali Abdullah Ahmed, Mani al-Habardi al- Utaybi and Yassar Talal al-Zahrani are found dead in their cells by guards after apparently dying by suicide.
June 29, 2006 – The Supreme Court strongly limits the power of the US government to conduct military tribunals for suspected terrorists imprisoned at Guantánamo Bay. The 5-3 ruling effectively means officials will either have to come up with new procedures to prosecute at least 10 "enemy combatants" awaiting trial, or release them from military custody.
September 6, 2006 – President Bush acknowledges that the CIA has held suspected terrorists in secret prisons overseas. He announces the transfer of 14 captured al Qaeda operatives, including Mohammed, Bin al-Shibh and Abu Zubaydah, to Gitmo.
January 9, 2007 – Australian Foreign Affairs Minister Alexander Downer says that he expects Australian citizen David Hicks to be charged "within a matter of weeks." Hicks has been detained without charges at Guantánamo Bay since January 12, 2002.
March 15, 2007 – During a military hearing, a transcript of Mohammed confessing to being the mastermind of the 9/11 attacks is released.
May 30, 2007 – A Saudi detainee is found dead from apparent suicide.
June 5, 2008 – Alleged 9/11 conspirators Mohammed, Bin al-Shibh, Ali Abdul Aziz Ali, bin Attash and Mustafa Ahmed al-Hawsawi are arraigned.
August 6, 2008 – Hamdan is found guilty of five counts of material support to a terror organization. He is later sentenced to five years and six months in prison.
January 22, 2009 – Obama signs an executive order to close Guantánamo Bay within a year.
November 18, 2009 – Obama announces that the Guantánamo Bay detention center will not be closed by January 22, 2010, due to difficulties in relocating the prisoners.
April 4, 2011 – Holder announces that five detainees will face a military trial at Guantánamo Bay.
May 18, 2011 – A detainee identified as Inayatullah (aka Hajji Nassim) dies by suicide in his cell.
September 8, 2012 – A detainee is found dead in his cell. US Southern Command later identifies him as Adnan Farhan Abdul Latif, 32, of Yemen.
March 25, 2013 – US military spokesman Robert Durand announces that 28 of the 166 prisoners detained at Guantánamo Bay are on hunger strikes. Ten of the detainees are being force-fed, according to Durand.
April 13, 2013 – Detainees wielding "improvised weapons" clash with guards. Guards respond by firing "four less-than-lethal rounds," according to Joint Task Force Guantánamo.
April 22, 2013 – US spokesman Lt. Col. Todd Breasseale says that 84 detainees are currently on hunger strikes, more than half of the 166 people being held.
May 23, 2013 – In a speech at the National Defense University, Obama calls on Congress to close the detention center by saying, "Given my administration's relentless pursuit of al Qaeda's leadership, there is no justification beyond politics for Congress to prevent us from closing a facility that should never have been opened."
June 6, 2013 – US spokesman Capt. Durand says that 103 detainees remain on hunger strikes.
September 2013 – The Office of the Director of National Intelligence releases a report, saying that some former detainees are returning to terrorist activity after being released. The study says that of the 603 detainees who've been released, 100 of them have resumed fighting against the United States.
February 2014 – Detainee Fawzi Odah files a lawsuit relating to the upcoming completion of US combat operations in Afghanistan. His lawyers argue that to hold detainees after the end of active hostilities is a violation of the Geneva Conventions.
May 22, 2014 – US District Judge Gladys Kessler lifts a temporary restraining order that had stopped the force feeding of detainee Abu Wa'el Dhiab. Kessler rules that he must be forcibly fed because of the "very real probability that Mr. Dhiab will die."
August 21, 2014 – The US Government Accountability Office declares that the Defense Department broke federal law by exchanging five Taliban detainees for Army Sgt. Bergdahl without giving Congress the appropriate notice.
November 5, 2014 – Detainee Odah is released. He will be repatriated to Kuwait where he will remain in custody for a year, in a rehabilitation program.
December 7, 2014 – Six detainees are transferred to Uruguay, including Dhiab, who has been on a hunger strike.
[ad_2]

Source link