[ad_1]


I don't know about you, but I am READY for the holidays this year! I'm ready for a little r&r, snuggles by the fireplace, and to hang with my loved ones. And as we plan to share moments of gratitude and joy with friends and family, we hope to share a little holiday cheer with all of you, too, with our new Opalhouse Designed with Jungalow holiday collection, available exclusively at Target.
While designing this collection, I thought a lot about what the holidays mean to me and how I want to feel during the holiday season. Cross-culturally, doves hold meaning as bringers of peace, love, and hope, and so I decided to incorporate dove symbols throughout the collection.  You'll also find peace signs, tassels (which are symbols of protection in many cultures), and lots and lots of trees — because y'all know how I feel about trees!
I'm all about holding on to traditions that light me up, and creating new family traditions, too. I loved having the freedom to design pieces for both Christmas and Hanukkah (both of which are celebrated in our household) for this collection. There are also pieces that are intentionally fun and festive but can be used all season long — no matter how or when you like to celebrate. We leaned into a non-traditional color palette — but one that still feels warm, cheerful and bright.
This camel pillow might be one of my favorite pieces from the collection. I wanna go to his holiday party this year! And just like the past seasons, I was not only able to help design the vessels for the candles, but also curate the scents, and they are soooo gooood! We've got cedarwood and moss, mandarin and patchouli, tangerine and turmeric, raspberry and persimmon, and more! (And they start at only $5!)
More favorites? The Hanukkah tabletop collection. It was *very* fun designing my very first Hanukkah collection and I love how these pieces came out! (Can we get some props for this dove tray? I mean, how cute?!) Latkes and sufganiyot are gonna be extra yummy this year, amiright?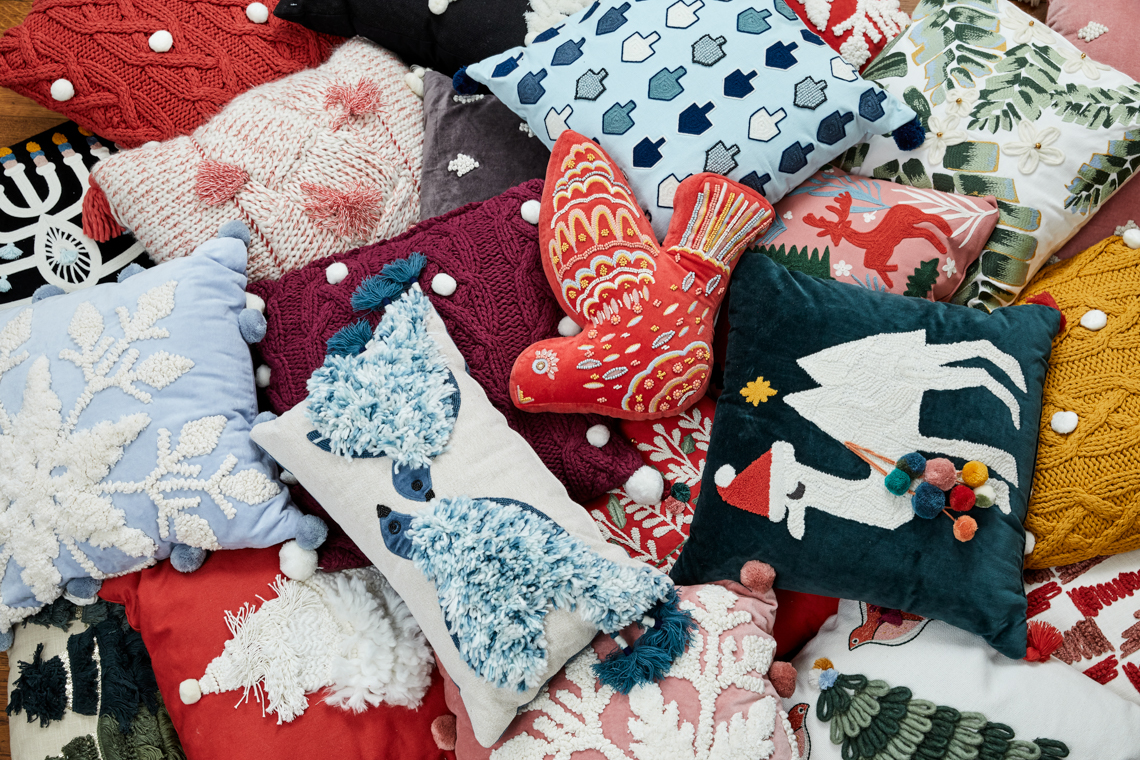 One of the easiest ways to decorate for the holidays? Add some cheerful pillows to the mix — and our Opalhouse designed with Jungalow collection has no shortage of festive, fun pillows. We've got dreidels and doves, snowflakes and menorahs, trees and reindeer, and all the beading, tufting, and pom-pom goodness you can imagine. The holidays are gonna be a little bit wild this year!
  
As we usher in the season, I wish for all of us for the doves to bring us hope, peace and love.
1. Dove Tray
2. Dove Menorah
3. Tassel Trees (come in two sizes!) Blue | Red | Pink | Teal | Purple
6. Camel Pillow
7. Dove Wreath
Photography by Jenna Peffley 
[ad_2]

Source link