[ad_1]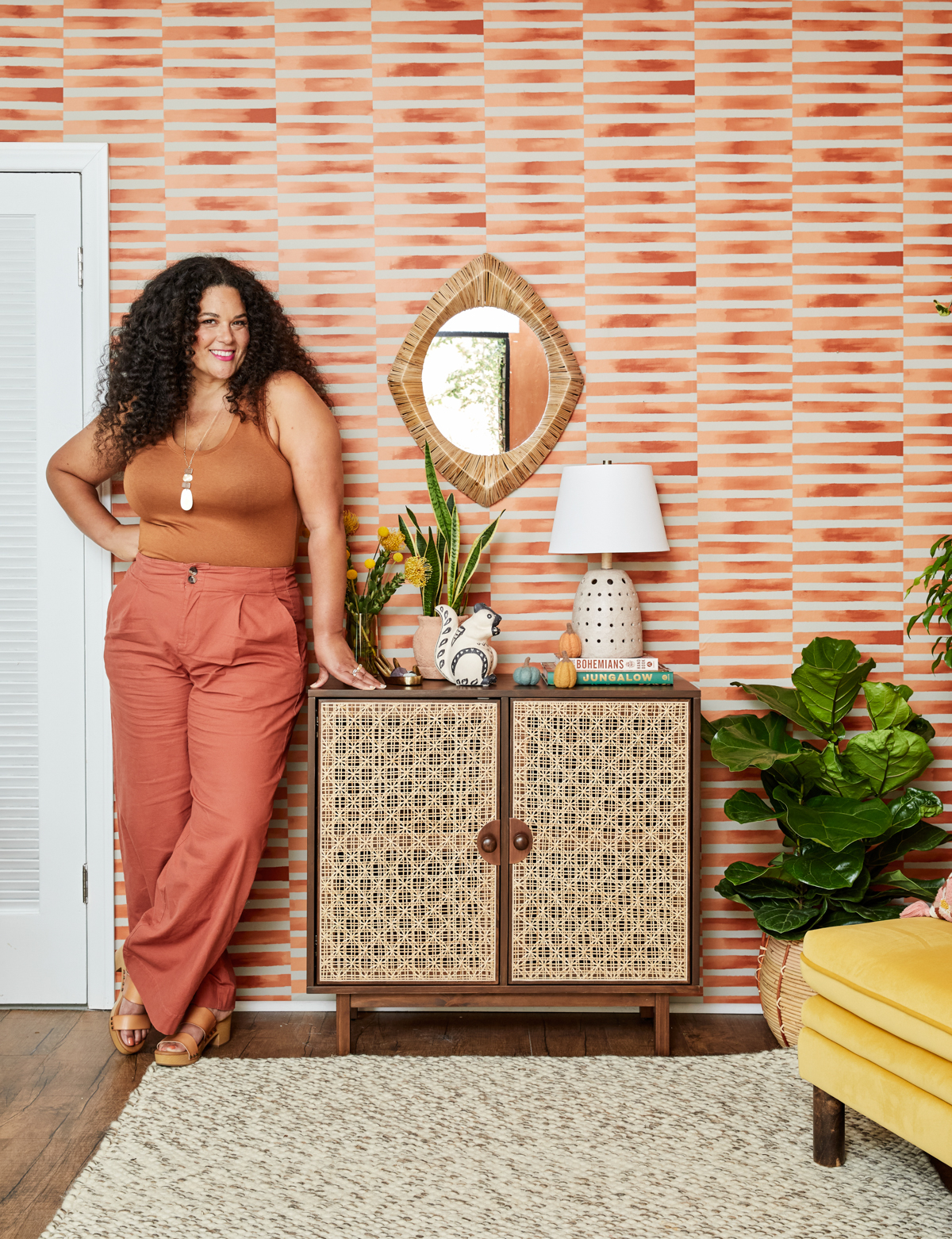 Summer is coming to an end, and I am ready for allllll the cozy fall vibes – gathering with a few loved ones around the dinner table, snuggling up with a good book under a warm blanket, and adding some festive jungaliciousness into the mix! This season, the autumn winds are blowing in a new Opalhouse designed with Jungalow collection that I am super excited about and proud of.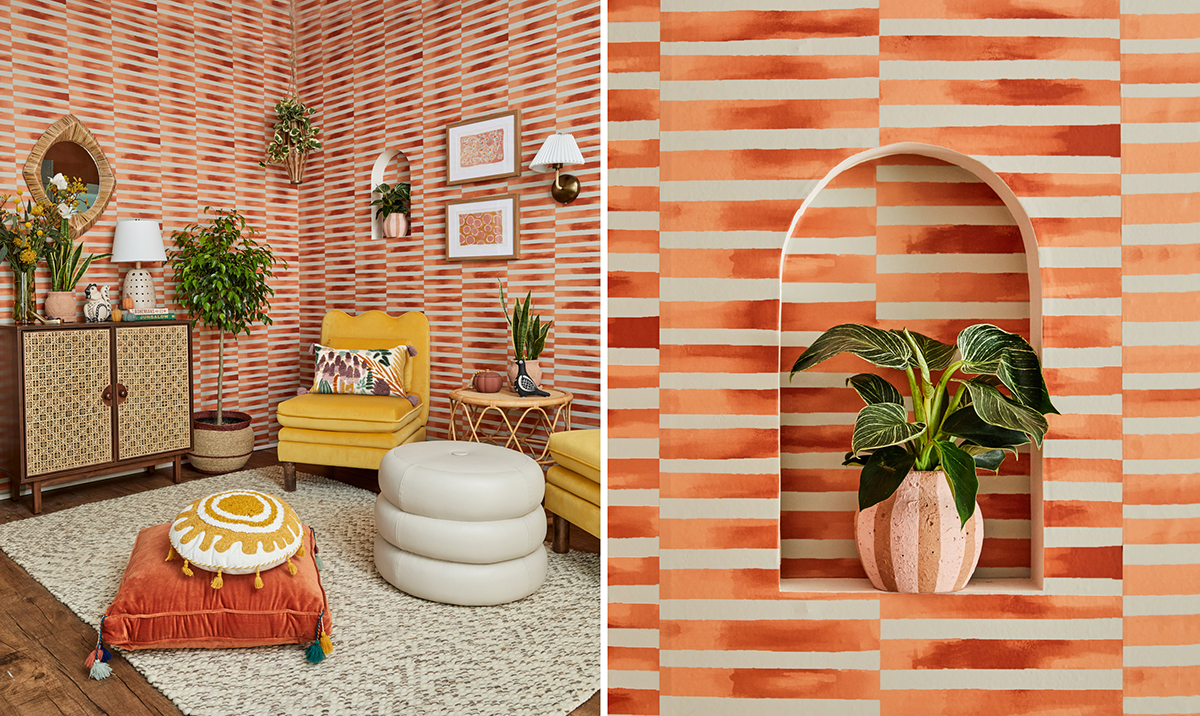 We worked on the designs for this collection last year at this time. I was missing family and friends, and travel, and imagining what fall might be like in the following year. And so I injected this collection with dreams of traveling to the Mediterranean, with hopes of lusciously layered Thanksgiving tabletops surrounded by loved ones and symbols of peace, tranquility, playfulness and positivity. While this year, we may not be able to visit far-off-places or have large gatherings, it is my hope that this collection helps you to invite some of those peaceful, tranquil, playful and positive vibes into your home and celebrate all that we can be grateful for.
Today, I'm going to share some of my favorite pieces from the collection and give you a peek into the design process as well!
For this collection, we leaned into natural materials. From cane-front furniture to raffia-wrapped mirrors (this one pictured above is only $50!) to terracotta decorative accents painted in bold black and white motifs. Not to mention the terracotta pumpkin candles that I have burning non-stop (and they smell so good).
But we also leaned into natural inspirations. You'll find darling doves, spirited squirrels and offbeat owls make a few appearances alongside artwork and pillows that celebrate plants, flowers and fall fruits.
When the fine folks at Target asked if I could work on designs for fall tabletop that could be used every day but that could also be dressed up for holiday, I got very excited! First of all, this is the first time I've ever worked on a tabletop collection, and I love trying new things, and second of all, I enjoy using my wild imagination to think about how designs can be mixed and matched in different ways.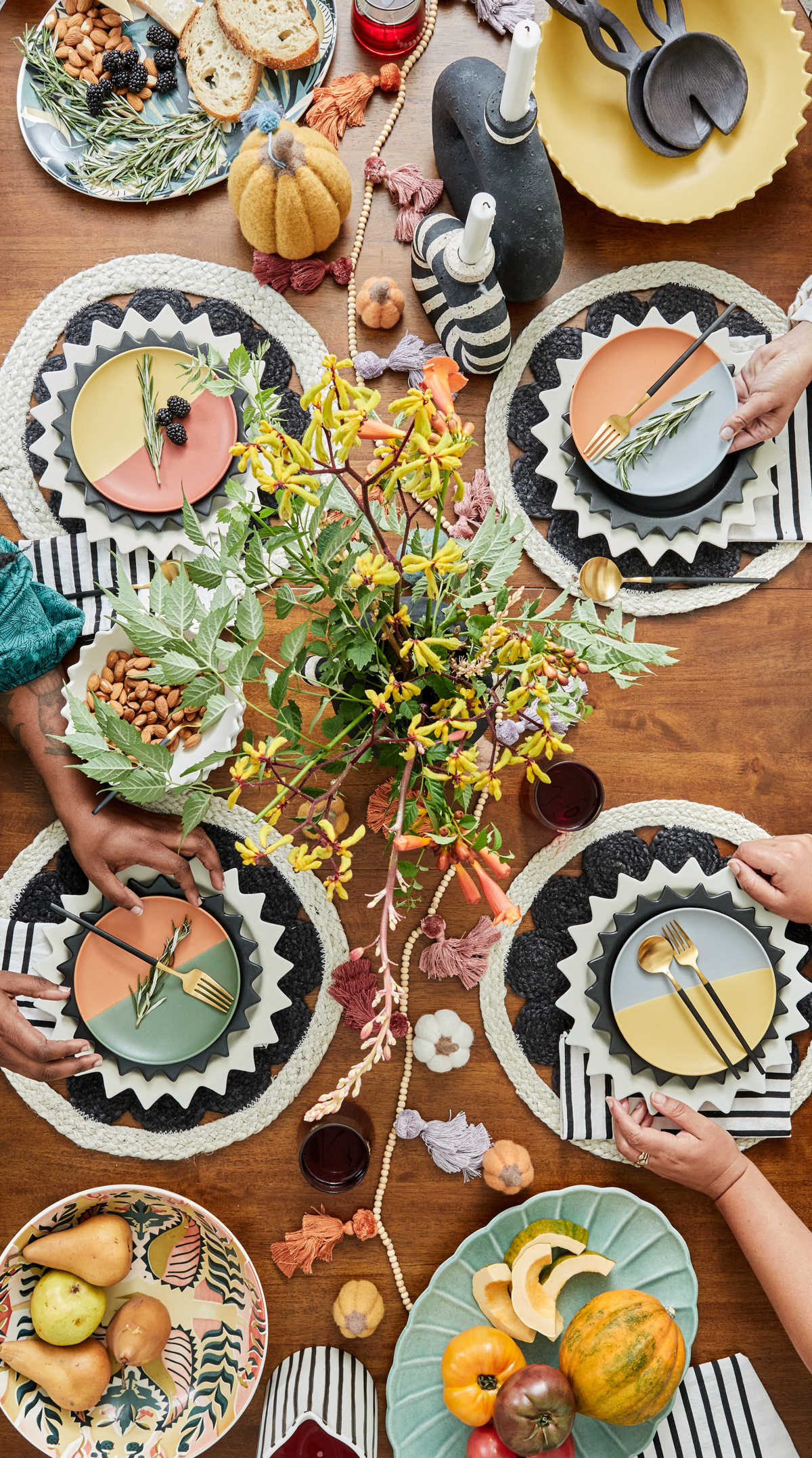 My jumping-off place for the tabletop collection was the sun-shaped plate. I thought that having solid plates would make it easy to dress the plates up or down — the same way that one can add jewelry and a pair of heels to a simple, solid dress to make it feel more fancy.  But being the maximalist that I am, I wanted the plates to have a little personality so going with an unusual silhouette (the sun shape) felt like the right move. I'm obsessed with how the Pointed Sun Stoneware plates and bowls came out. The quality is so great and they cost $20 for a four-pack.
From there, I began to layer on the fun! Two-toned appetizer plates bring in pretty pops of color, and serving platters and bowls that feature my artwork add that pop of pattern that I love. And then there is this brass peace tray that I've been dreaming about for years, finally realized and only $24.
For the tabletop textiles, I followed my normal rhythm — mixing botanical-inspired motifs with graphic ones — in this case, I paired a tablecloth that features one of my watercolors with falling leaves with a striped black and white runner and napkins to provide the kind of contrast I love.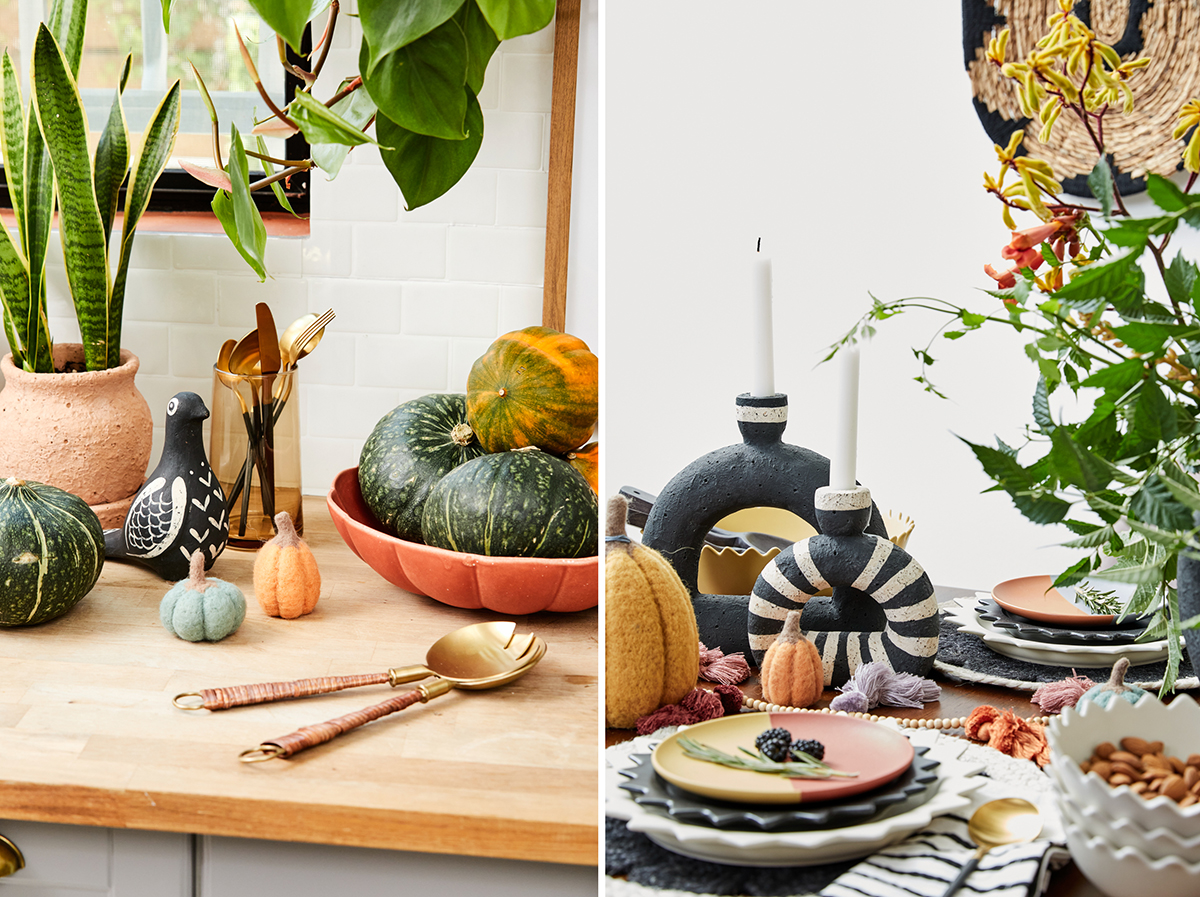 Add in some chunky ceramics, pumpkins, tassels and a finely foraged centerpiece and you've got yourself a festive tabletop without the fuss!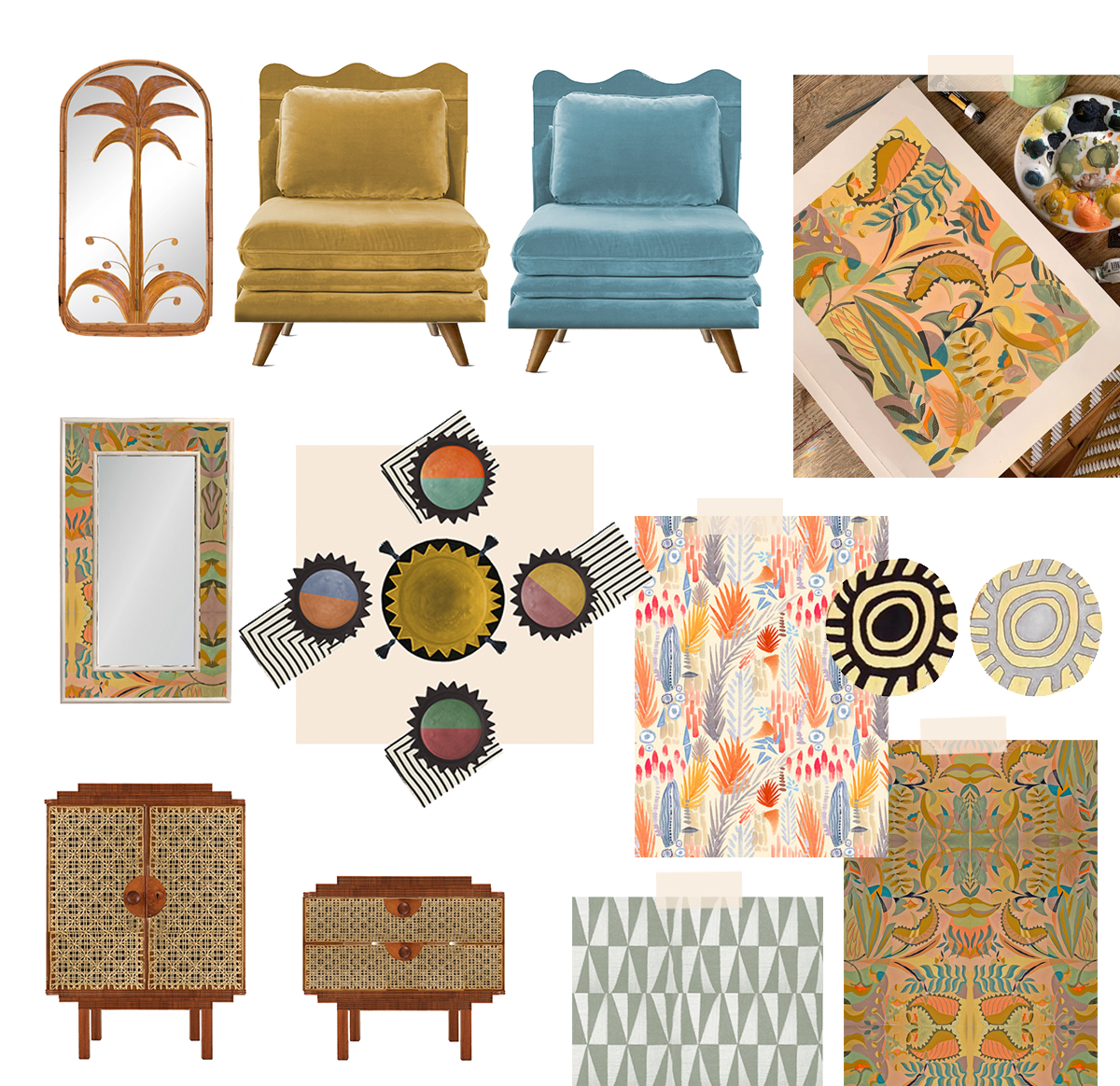 I thought it would be fun to share some of my original renderings and artwork for the collection to take a peek behind the curtain! The way the design process usually works is that the amazing design team at Target gives me a line plan — meaning they share what types of items they like to see designs for and how many. So they might say — we need five ideas for seating, five mirrors and four lamps (etc.). From there, I go back and create a mood board, and then work with my design team (looking at you Piper!) to pick colors, develop patterns and create renderings and material references for all of our ideas. We then pitch the concepts back to the design team at Target.
Then, the Target folks take our concepts and hone in on the ideas to bring everything to life.  Seeing the first samples come in is always a very exciting part of the process. From there we work together to edit, fine-tune and make any adjustments. Above is a selection of some of my artworks and renderings that were part of our initial pitch for this fall assortment. I am so impressed and amazed by the Target design team and how they bring our designs to life, capturing the spirit of the original designs and offering the pieces at such accessible price-points.
Below you'll find some of our favorite pieces from the collection, and some details about the pieces!


I hope you enjoy having these pieces in your home as much as we enjoyed creating them! Shop the full Opalhouse designed with Jungalow collection exclusively at Target!
Photos by Jenna Peffley
My makeup by T'ai Rising Moore
With thanks to my incredible team for helping pull together the collections and the images, and to the Target team for really bringing all the design-savvy and making our stuff look so insanely good!!


[ad_2]

Source link