[ad_1]

There is a growing gap between the amount of data available and the crucial decisions that are being made at every level of an organization—and that "data decision gap" threatens to not only compromise the investments organizations continue to make in digital transformation but cause those organizations to let instinct rather than information determine their futures.
That is the over-arching finding from a new report based on a survey of 441 people whose careers depend on navigating the data decision gap. The report, which was produced by Manchester Street, also examines the challenges organizations face in closing the gap, and details why apps may be the best solution for narrowing the divide upfront.
Following are three other key takeaways from the study, which Domo commissioned and a wide range of business leaders participated in.
1 – The struggle (to become data-driven) is real
Organizations that are truly data-driven utilize insights for decision-making at all levels, from the C-suite to the frontline and knowledge workers. The problem is, few organizations commit to more than just capturing, storing, and having access to data. In fact, when asked, "How much of your org takes advantage of insights derived from data analytics or BI?", the top response was "40-60%".
So, what's holding these organizations back from bridging the gap between having access to data and putting data to use? In short: a variety of challenges. Many organizations face attitudinal and/or technical challenges (see chart below). But the two main reasons for the gap, according to the respondents, is that the tools are too disconnected from the business, and lack of training.
This makes sense, because if the tools are disconnected from the business, then it is hard to justify the time and money to conduct training. So, instead, organizations continue to rely on analysts when they could be making data more accessible to all and pushing technical work downstream to knowledge workers.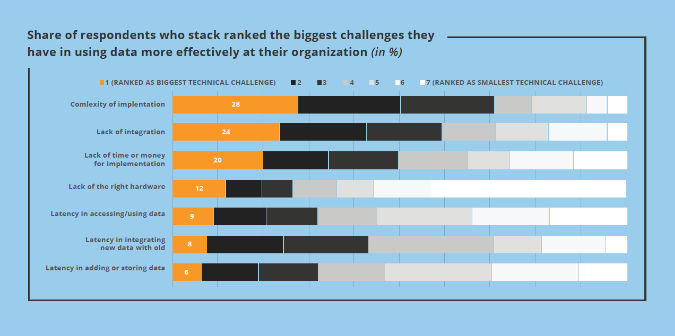 2 – The future is bright … with the right tools
Despite the difficulties associated with predicting what the future might look like for their organizations, the respondents overwhelmingly articulated a vision based on substantial—and, in many cases, exponential—potential for the role of data.
For example, 57% said that machine learning, artificial intelligence, and/or data science will likely receive substantial or exponential investments over time.
These leaders recognize that they cannot simply purchase more storage and hope that the data problem will resolve itself. Instead, they must invest in tools that:
can respond to the increased sources of data
are simple to use
can easily integrate with existing workflow processes
do not require extensive training
With such tools, the lid on who can make data-driven decisions gets removed, which is how an organizational culture can begin to change.
3 – Apps are where it's at
The respondents suggest that there are three essential characteristics for any tool that claims to support data-driven decision-making.
First, the tool must support the integration, automation, and accessibility of data, because, as previously noted, organizations rarely have the time or money to invest in extensive training to enable a high percentage of their employees to learn data science—and none can afford to continue to rely on data analysts to make recommendations based on data, which is the spot 76% of respondents said they are still in.
Second, the tool must help anyone to build apps—from no-code, interactive dashboards to unique apps created by developers to solve business problems and automate workflows—as having such a capability fosters a greater degree of employee empowerment.
And third, the tool must prioritize customizable apps that are mobile-friendly. This ensures usability. Mobile-friendly apps enable employees to work seamlessly across devices, collaborate across departments, and make quick decisions based on real-time data available at their fingertips.
The ideal solution
There is a tremendous gap between what organizations say they do with data and what they actually do with data—and the survey data from a recent, Domo-sponsored study backs it up.
The good news is that there are tools that can help organizations reduce this gap. One such tool is the Domo platform, which possesses all the features that go into what the respondents described as their ideal technological solution.
Apps are a major part of that solution because, on the Domo platform at least, they are easy to build, easy to integrate without disrupting existing workflows and processes, and easy to use whether you are an analyst or not.
Download the report this blog post is based on—Closing the Data Decision Gap: How the Right Data Apps Can Empower Organizations to Become Truly Data-Driven—to learn more about the disconnect between data and decisions, and how it can be fixed.
[ad_2]

Source link