[ad_1]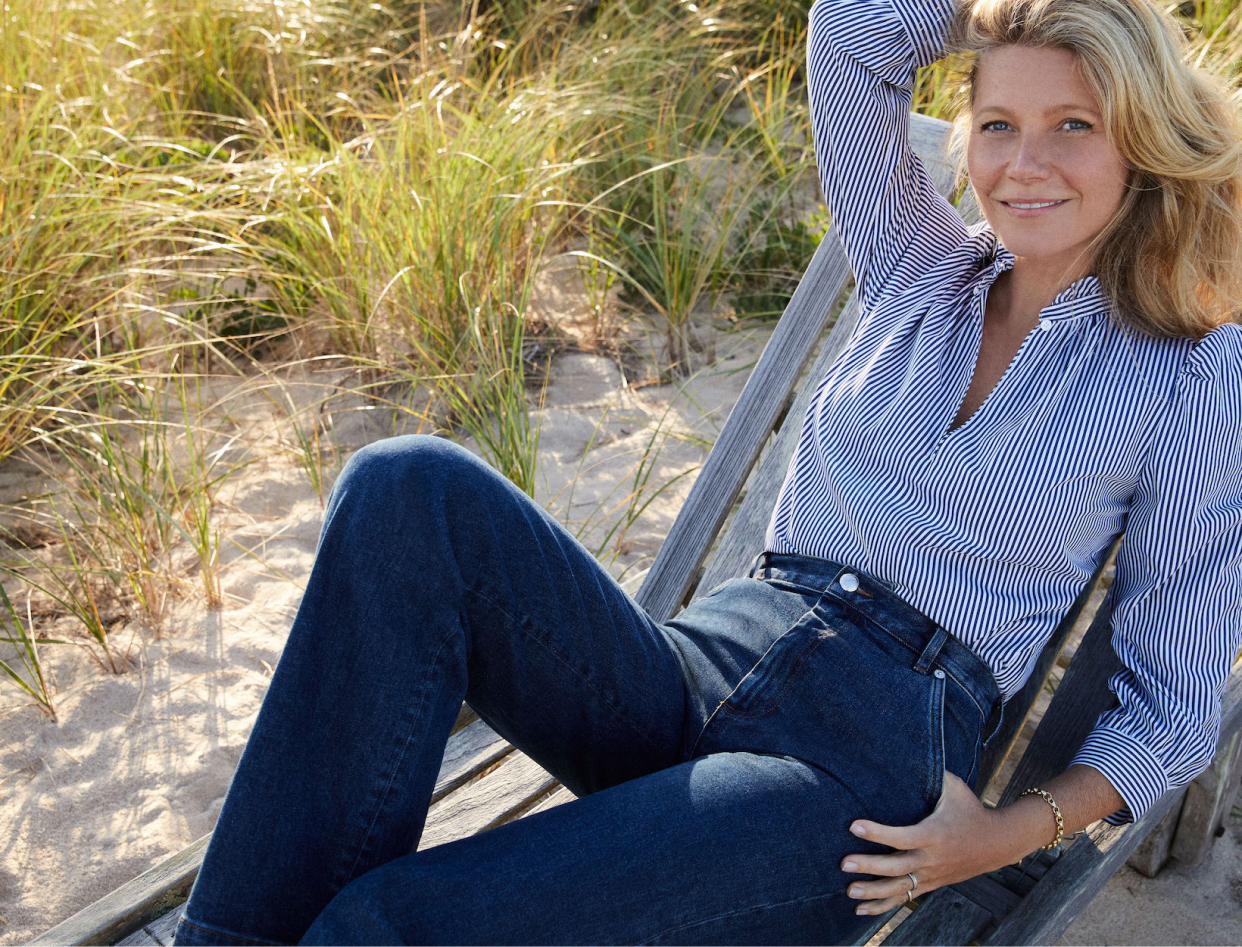 G. Label: The Why, How, and When
Gwyneth's intention with G. Label, which is inspired by the pieces she's loved and never been able to replace, has always been to create a wearable manifestation of goop: life-bettering essentials that stand the test of time and trend (no fast fashion here). Six years later, the top-notch-quality items that launched in 2016 aren't just in fantastic condition, they're perfectly relevant, too, holding their own in the company of any and all closet newness. As we look toward the future—which will include new iterations of the superior everyday classics and fastidious attention to detail you've come to expect from us—take a trip down G. Label memory lane with us.
September 2016
G. Label Launch: Collection 1
Tweed two-piece suit. Puff-sleeve chambray shirt. Oversize linen-and-leather tote. The inaugural collection comprised four buy-now, wear-now pieces that we saw as nothing less than the backbone of a complete wardrobe. Essentials our customers could mix, match, and build around. The clothes were made in a limited run, meaning that once they were gone, they were gone. And while some bestsellers have served as inspiration for future launches, we've stuck to that plan.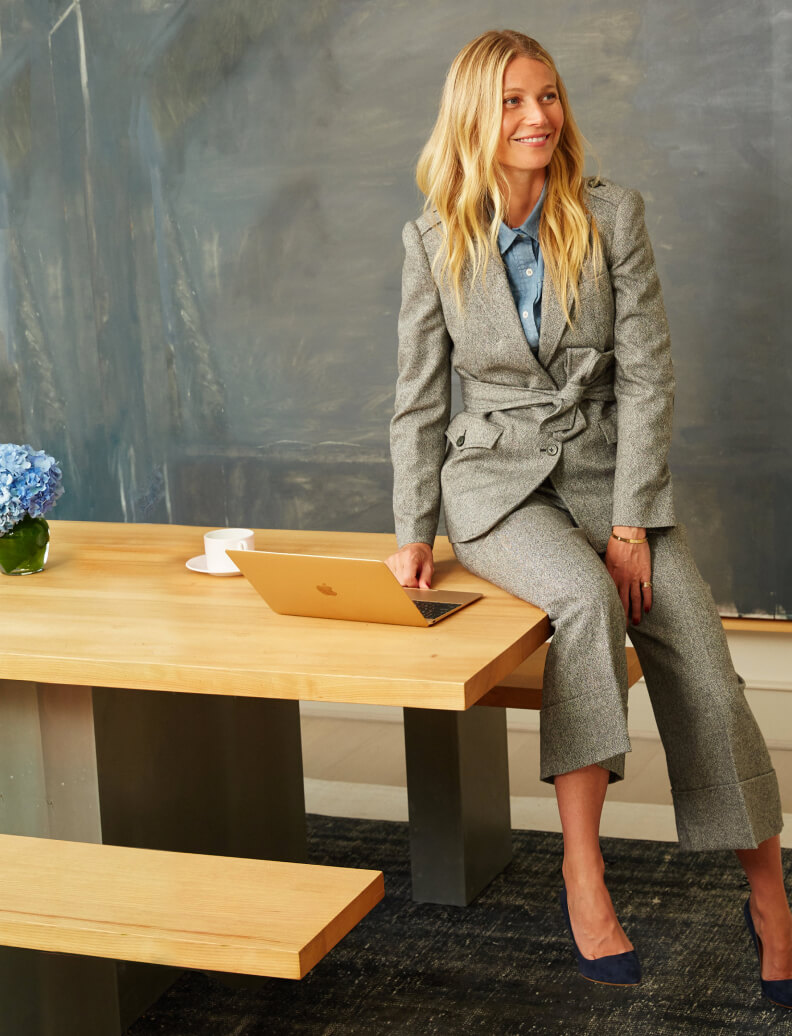 March 2017
The Jumpsuit That Started It All
It's no secret that GP loves a good jumpsuit. She was the fit model for Blair (as she is for every G. Label piece), meaning that it was tested by a bona fide jumpsuit expert—and is great for those with a longer torso. Blair was cut from a cotton twill in Italy, outfitted with a sturdy button-up front, and finished with the now-iconic puffs at the shoulders. We're proud to say that we've been nailing jumpsuits since 2017.
March 2018
Puff, Puff, Pants
The launch of the high-twist cotton poplin Tracy button-up solidified the puff sleeve's role as a G. Label calling card. Tracy married masculine shirting details with an exaggerated, feminine Victorian puff sleeve that was strategically sewn onto the outside of the shoulder. Since then, the G. Label puff sleeve has evolved: Newer iterations incorporate fresh details and unexpected flourishes. Borrowed-from-him-but-made-for-her wide-legs strike a balance—and have become another signature.
2018
Forever Classics
They say it's the classics that are the hardest to find. We put them front and center. And around G. Label's second birthday, we started to produce larger collections, with more options of those foundational pieces to cover more ground—so that G. Label could really be the line you build your wardrobe around, not just a supporting player.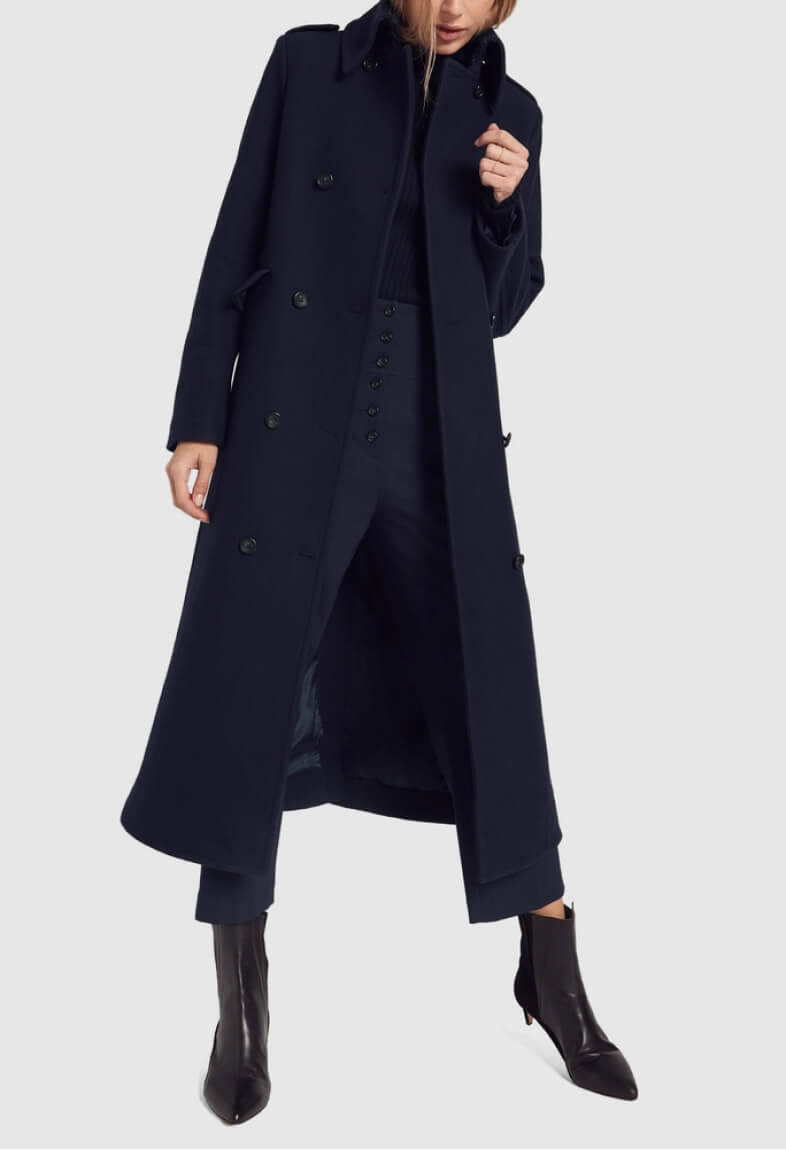 April 2019
G. Label on the Red Carpet: The Avengers
For obvious reasons, it was only a matter of time until G. Label made its red carpet debut—and we couldn't think of a better opportunity than The Avengers premiere. The concept: a hyperfeminine Swiss-dot silk blouse with a sexy neckline and an exaggerated bow paired with an oversize, masculine tux. But because it was G. Label—and because it was GP's legs—the tux pants were cropped into mini A-line shorts. The end result? Super.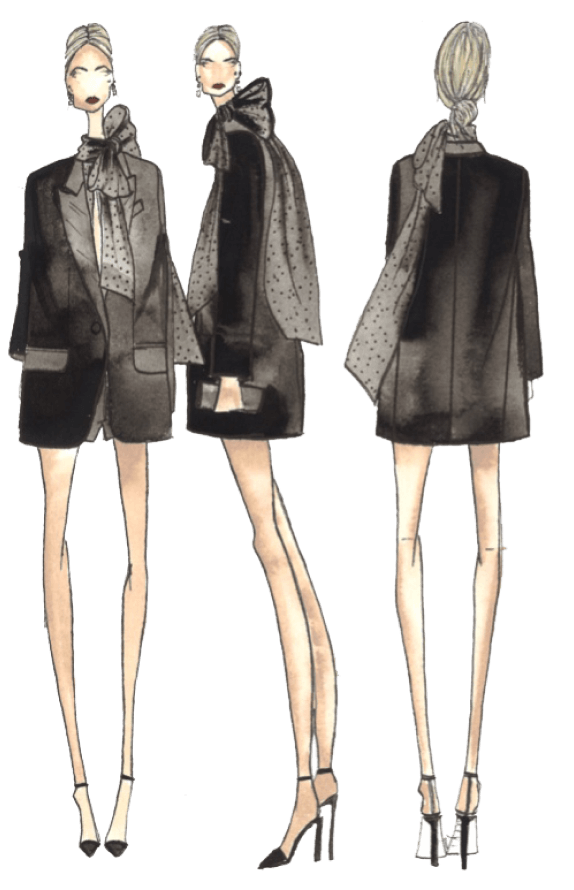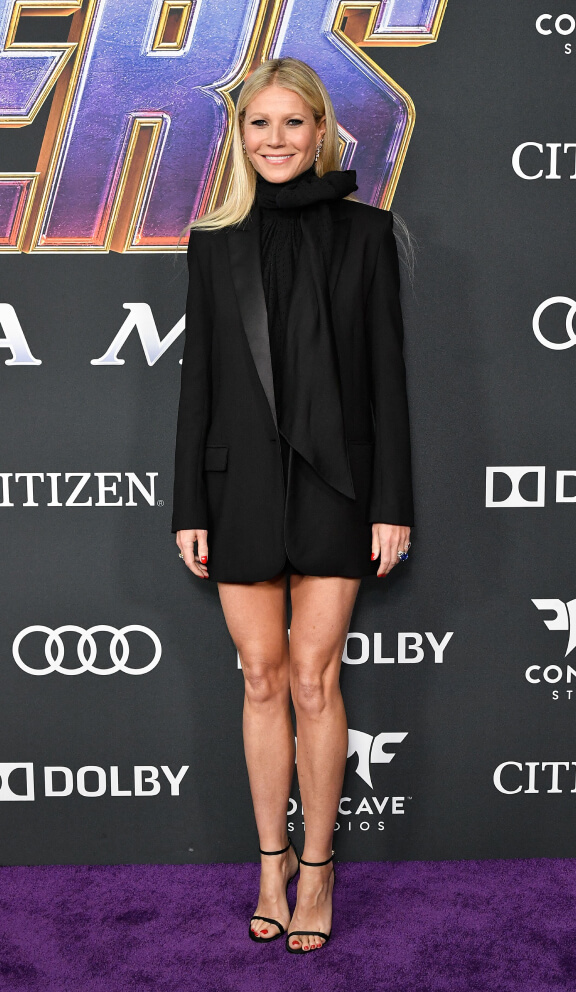 May 2019
Meet G. Label Core Collection
"Uniform" is a word we use a lot—we believe that finding yours is the key to getting dressed. Fast. Core Collection was created to be that uniform: a selection of past G. Label favorites and bestsellers, updated in new colors and fabrications. While G. Label is launched monthly, in limited-edition runs, Core Collection sticks to a quarterly cadence and hangs around for longer.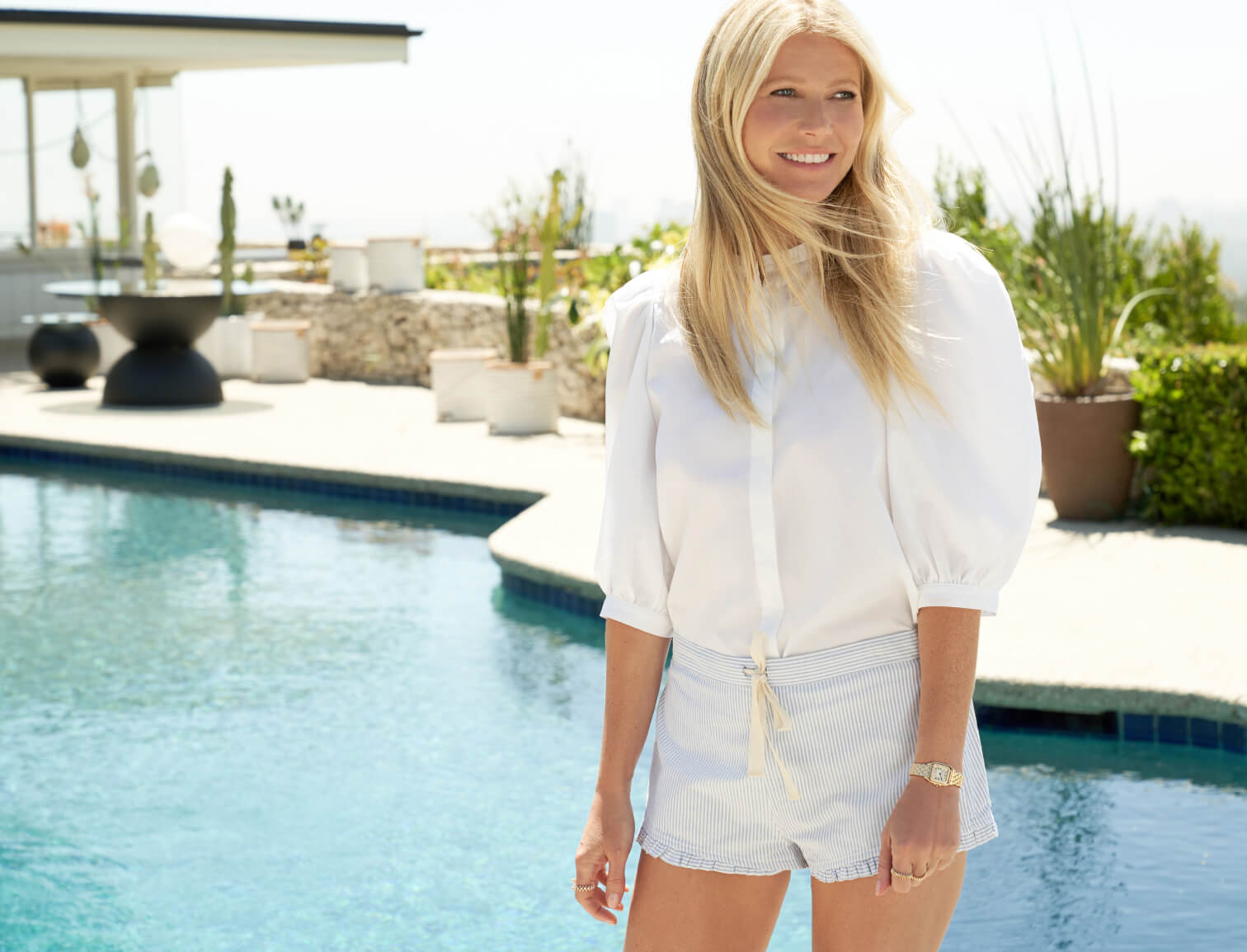 September 2019
Impeccable Knits
A G. Label icon, the Yang sweater is a tried-and-true bestseller spun from Italian merino wool—and it's universally flattering. The high collar, generous ribbed cuffs, and stepped hem are equal parts elegant and wearable. We've been riffing on the silhouette since the first iteration sold out: same focus on quality and subtle design elements, done in classic argyle, stripes, or a cable knit.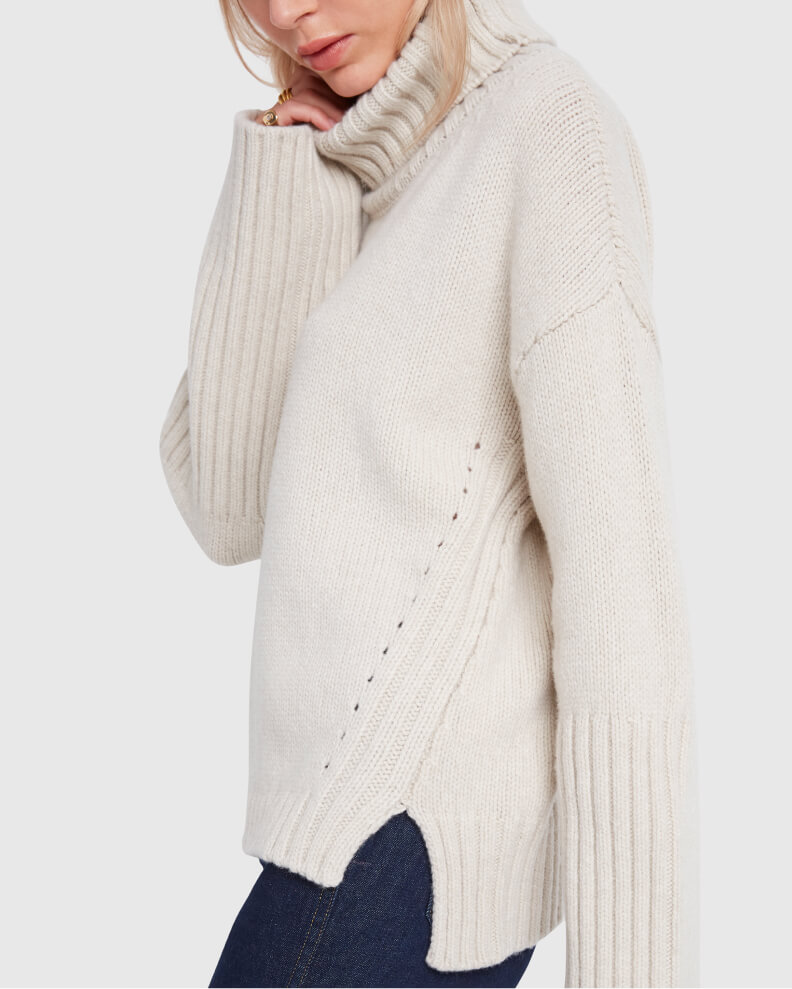 September 2019
G. Label on the Red Carpet: The Politician
For this particular premiere, GP wanted a jumpsuit with the fluid movement of a dress. The designers got to work on a smooth, floaty midweight crepe piece in a rich matte green that popped against the backdrop of Politician pink. The most special thing about this look, though, is that the team was able to source green silks from New York and Los Angeles to reproduce the piece for G. Label.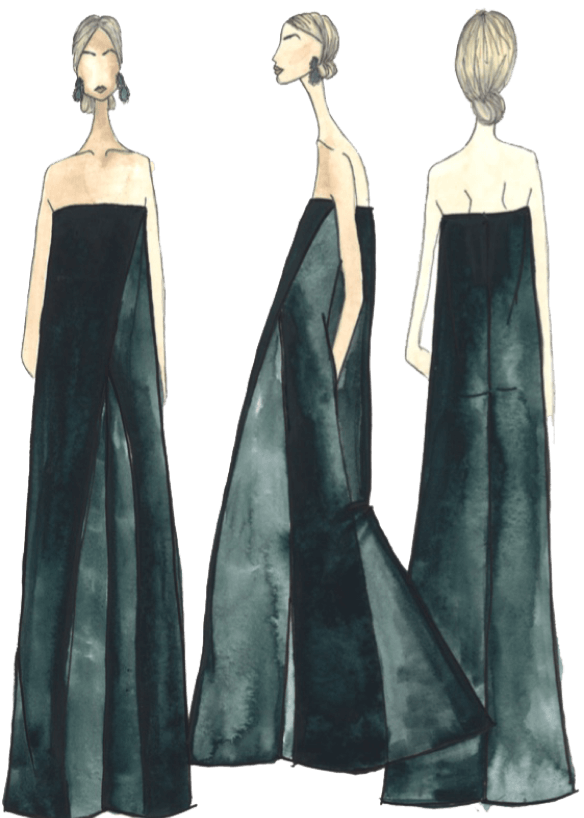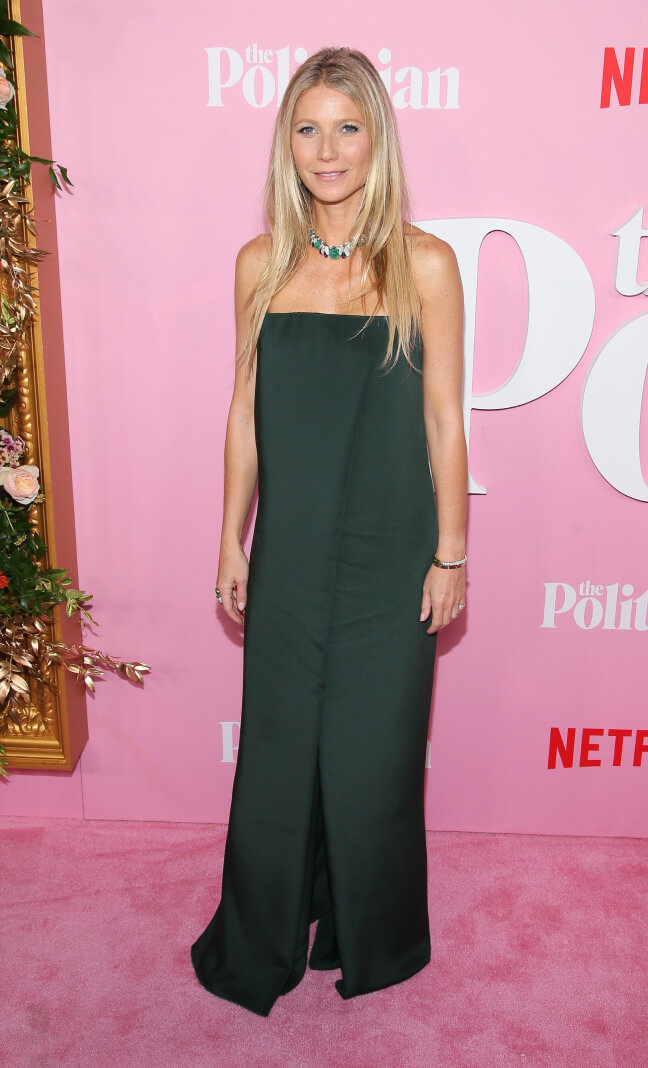 January 2020
G. Label on the Red Carpet: The goop Lab
The ask for the launch look for our first Netflix show was simple: sexy, tailored, and distinctively G. Label. So what's sexier than a bra top? And what's more tailored than a great pair of high-waisted slacks? And what's more distinctly G. Label than cutting both from Italian wool-blend crepe? Judging by how many of you snagged the duo for yourselves, it was a winning equation.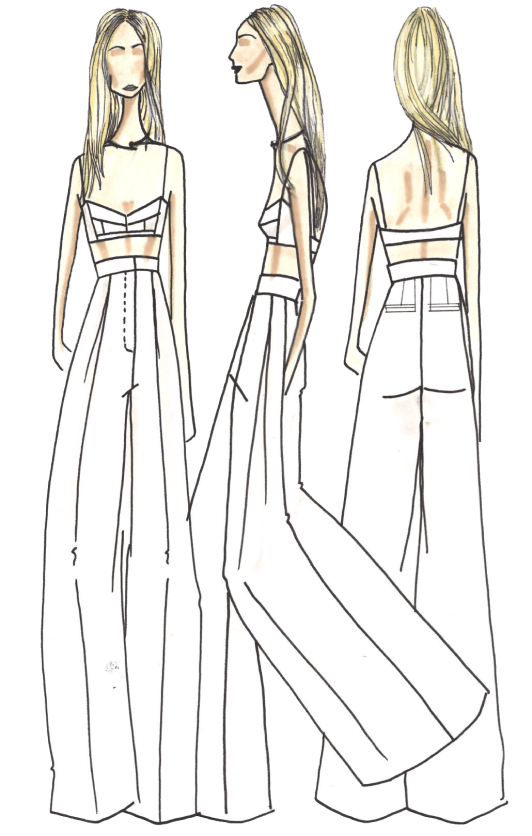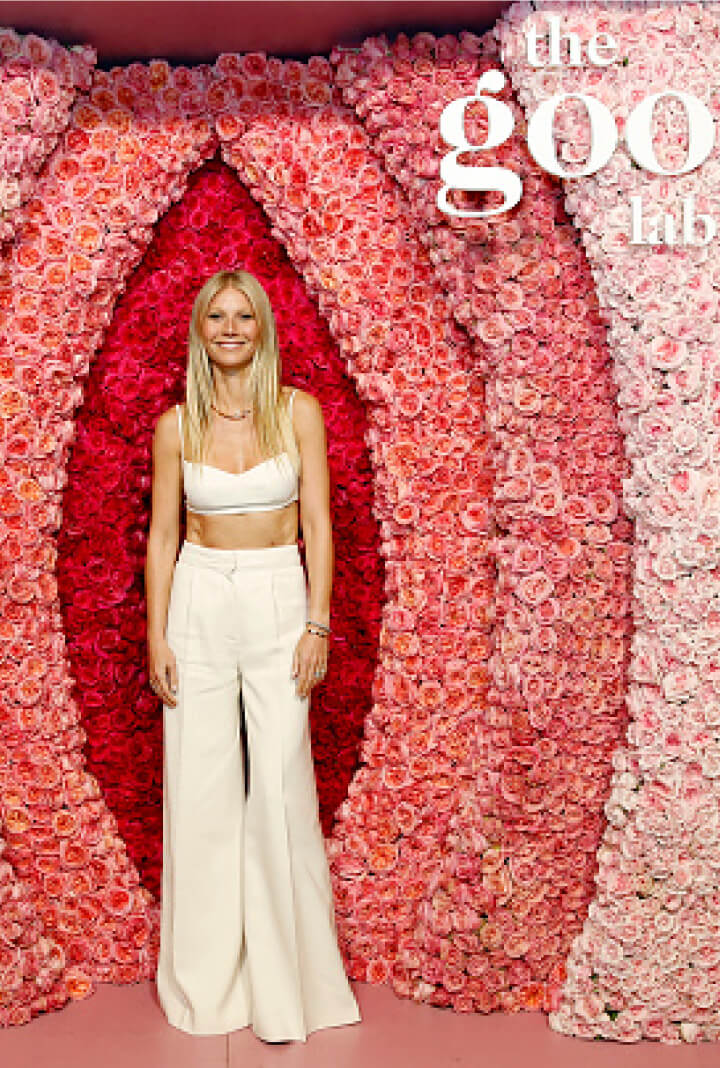 March 2020
G. Label Sport x Proenza Schouler
Considering our commitment to holistic health, G. Label Sport was an obvious extension of the brand. We are proud to be judged by the company we keep, and we've done many collaborations to prove it. The G. Label Sport x Proenza Schouler partnership was a highlight because the cutout tops, movement-friendly bottoms, and subtle-yet-fierce palette were so reflective of our values. And a nod to the glorious simplicity of the '90s is always a plus.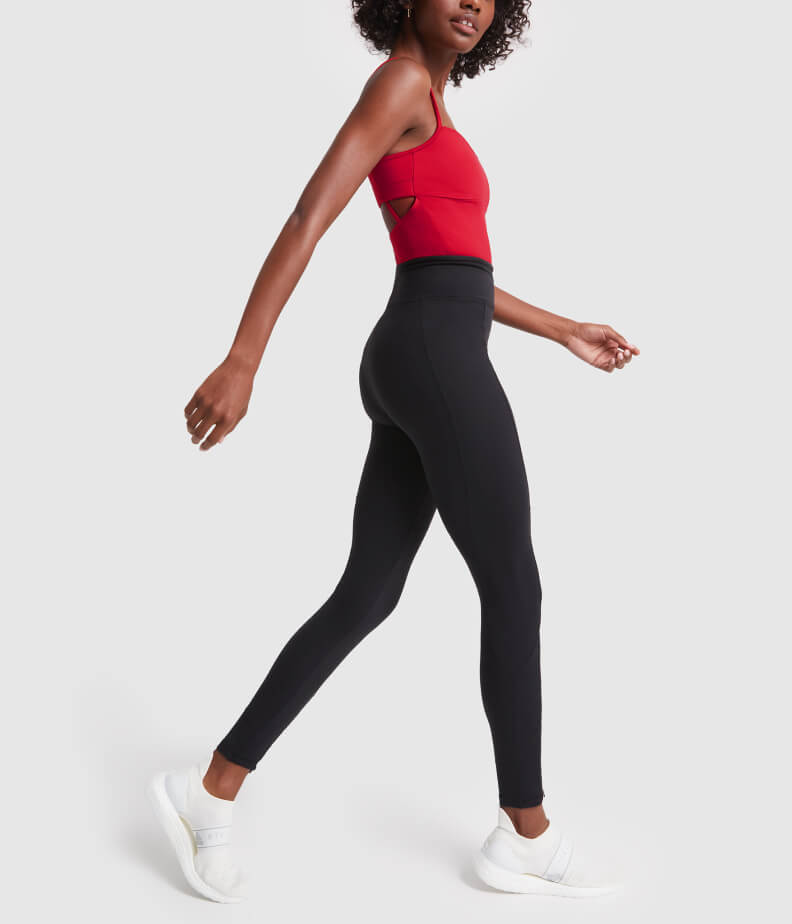 2020
The New Normal
The pandemic forced all of us to readjust, and G. Label was no different. We hustled to switch gears and stock our virtual shelves with the softest, coziest, most elevated versions of at-home wear. There were layers of every weight and fabrication, matching sets to satisfy any taste, sweatshirts galore, and (of course) the goopified sweatpant-culottes. What's more, since traditional photo shoots disappeared overnight, the bulk of new launches were shot at home, many by longtime goop collaborator Coliena Rentmeester. Safe to say, she gets it: "G. Label manifests Gwyneth's personality—feminine, strong, structured, flowing, classic, aspirational, and approachable. Season after season, she and her line are full of evergreen style and inspiration."
August 2020
Meet the G. Label Dress Collection
Every time a monthly launch included a dress, it was guaranteed to sell out. Which got us thinking: There was clearly an appetite for cooler versions of classic silhouettes. And so the Dress Collection was born. Polka dots and fluorescent pops of color then; lush florals and whimsical prints now. And thanks to the trio brought on to model, it was a historic launch in more ways than one.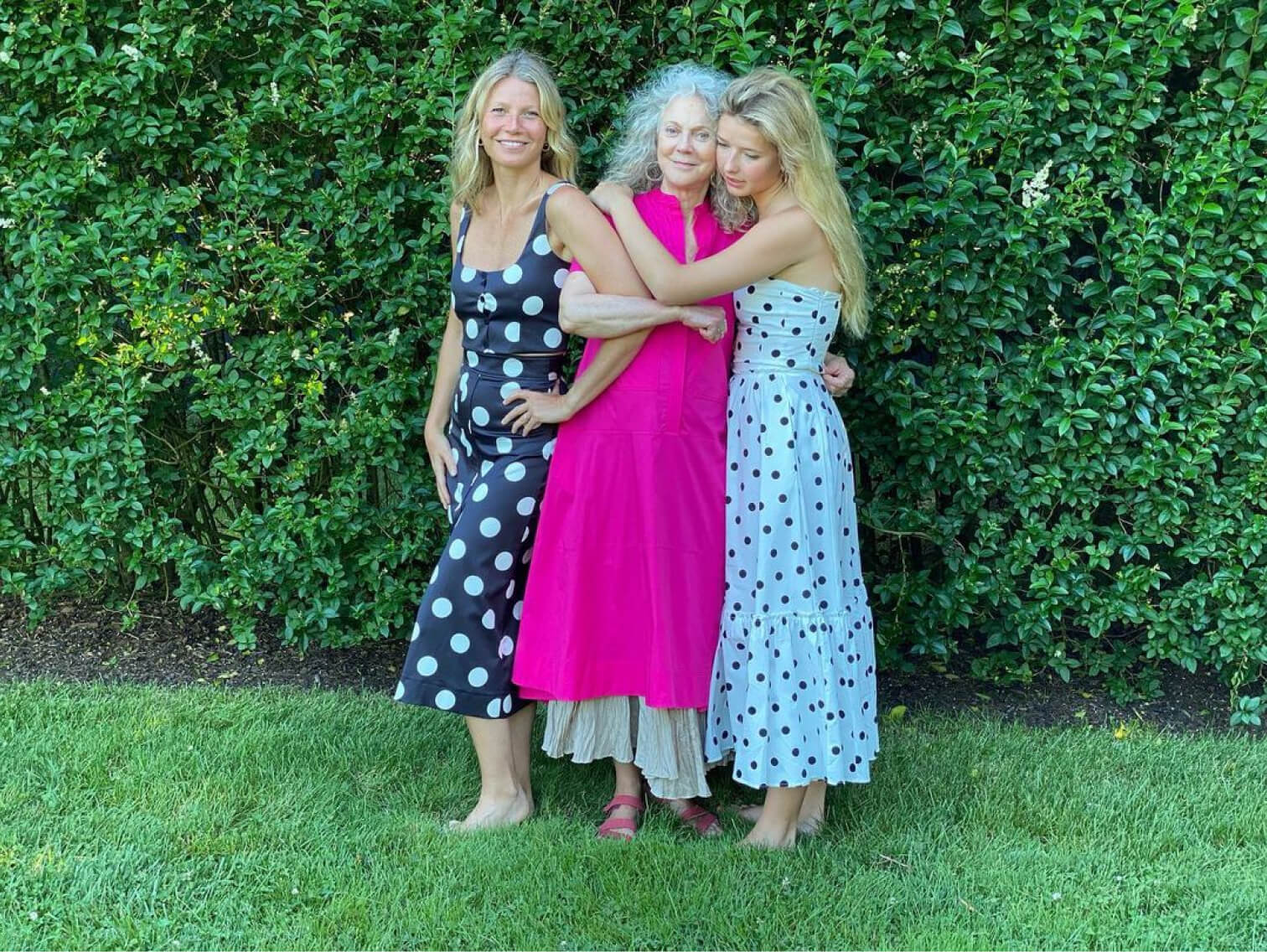 June 2021
Meet G. Label Jewelry
It's a running joke around goop HQ that GP is a jewelry influencer. But you have to admit that there's something distinctive about the way she wears her stacks and layers. It took about a year and a half from start to finish to design our first six-piece jewelry collection, inspired by—you guessed it—our founder's love of everyday statement pieces. The idea is that they serve as the base for whatever level of jewelry experimenting you're into: They're pieces you can put on and never take off, whether you're going to the gym, to the office, or out for the night.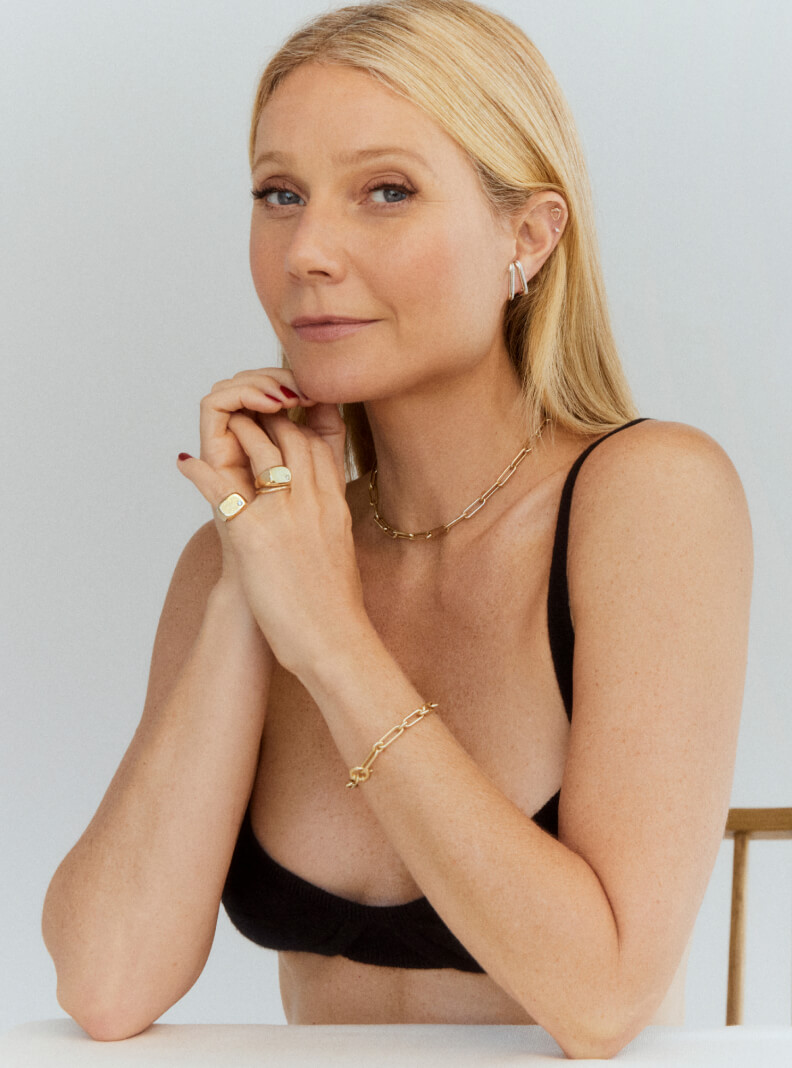 2022
Getting Dressed (Again)
What we've always wanted to do with G. Label is to meet our customers where they want to go. And right now they are in the process of integrating themselves back into the outside world. With the easiest shirtdress ever, a printed set that's multiple outfits in one, separates that make you feel put-together and powerful—because you absolutely are.
[ad_2]

Source link