[ad_1]

A California lawmaker is attempting to blunt efforts by other states to restrict gender-affirming care for youth with legislation that would protect from legal sanction transgender children who travel there for treatment and the clinicians who assist them.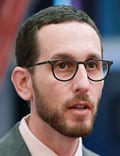 A bill proposed by state Sen. Scott Wiener (D) would bar enforcement of civil judgments from other states regarding the provision of gender-affirming care to minors, Alan Moore, a legislative aide in Wiener's office, told Medscape Medical News.
Language in the bill would mirror separate pending legislation to protect clinicians who provide abortion services, Moore said. That legislation calls any laws authorizing civil lawsuits against people or entities who receive, seek, perform, or abet an abortion "contrary to the public policy of this state."
The bill also would block California courts from honoring out-of-state judgments that withdraw custody from parents who allow their child to receive gender-affirming care and would bar compliance with out-of-state subpoenas seeking information about people who come to California to receive gender-affirming care.
It also would shield clinicians and parents from criminal prosecution by relegating to the lowest level of law enforcement priority any out-of-state arrest warrants for individuals who violate other states' laws against allowing a child to receive gender-affirming care or to provide such care.
Announcing the bill last week, Wiener said it would help "ensure that California is a place of refuge for transgender children and their parents as a wave of criminalization sweeps through Texas and other states."
California appears to be the only state with pending safe-haven legislation for youth seeking gender-affirming care, spokespersons for the American Medical Association and the American College of Physicians told Medscape Medical News.
Major medical societies have vigorously opposed efforts to deny adolescents gender transition–related care, such as providing temporary puberty blockers, hormone therapies, and genital-altering surgeries. The California Medical Association has not taken a position on Wiener's bill, Shannan Velayas, a spokeswoman for the group, told Medscape.
Specific language for the bill is expected to be introduced by April 1.
Clinicians are a key target of efforts to deny care to an estimated 58,200 transgender youth in 15 states, according to a report by the Williams Institute of the University of California, Los Angeles (UCLA) School of Law.
In February, Texas Gov. Greg Abbott directed his state's Department of Family and Protective Services to investigate the provision of gender-affirming care as "child abuse." Earlier this month, a district court judge halted the first such investigation, but Abbott's administration appealed that ruling.
In 2021, the Arkansas legislature passed a law prohibiting gender-affirming care for minors, prompting two physicians, a pediatric endocrinologist and a pediatric and adolescent gynecologist, to sue on the grounds that the law prevents them from providing medically necessary care and making referrals.
Bills that are pending in 13 other states would carry "severe penalties" for clinicians, either criminalizing the provision of gender-affirming care to minors or subjecting clinicians who provide such care to discipline from state licensing boards, according to the UCLA report. Bills in 10 of those states would also allow individuals to file civil suits for damages against medical care providers who violate laws against gender-affirming care, the report said.
Catie Stewart, a spokesperson for Wiener, told Medscape that civil protection for clinicians is "not the primary focus of our legislation, but we want to ensure providers are covered in case it becomes an issue."
Sponsors include Planned Parenthood Affiliates of California, whose members provide gender-affirming care, and Equality California, an LGBTQ+ rights group.
Mary Chris Jaklevic is a Midwest-base healthcare journalist.
For more news, follow Medscape on Facebook, Twitter, Instagram, and YouTube.


[ad_2]

Source link